December 8th, 2021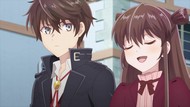 Oh boy, a whole fanservice/date episode, because the story was moving way too fast, apparently.
Impressions:
It's Sweeps Week, apparently, and since we're an AT-X show, that means… you guessed it, random nipples! Yay! Set to a horrendously shrill and nasally insert song about a love affair between an automaton and his absent girlfriend having sex in a bottomless cave tub, which is apparently going to be the ending arc for this stupid show because she's secretly evil. Except obviously not, because A.) That's obvious, and B.) We still haven't even reached the opening goddamned hook of the show. It is goddamned mind boggling to me that what they used to tease the show at the very start is something that we will not even reach.
You could've just been crappy budget harem Princess Principal, or Release the Spyce, but we are ten episodes and, and still waffling around about starting the first character arc, which is also something that I'm pretty sure I've said for the last three weeks, yet never actually comes to fruition as it finds more ways to put off even attempting to write anything. Just end it already. Fake kill this stupid nipple-having girl, give her a new name and identity as part of your harem, and throw up the advertisement for the terrible light novel.
Next Episode:
…
Posted in Greatest Assassin | 1 Comment »