March 8th, 2012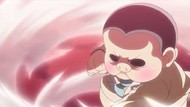 I'm so glad they included her in the show.
Impressions:
Same issues with this season as always. Moriarty gets shoved aside to be nothing more than an unneeded exposition device telling them to basically "go somewhere" and then spew out some exposition before literally walking off into the night again. All before the episode even reached the halfway point. Then the antagonist-apparent for the end of the season gets to be the fat student who absorbs all the old Toys that the idiots released and in a shocking cliffhanger, after absorbing most of the city, evolves into a bishie.
I guess at least it had a little more focus than usual. It's a shame that it's all centered on one of the worst possible characters and as such, I spent more of the episode asking myself if this was seriously the arc they were going with. JC Staff learned all the wrong lessons about what made the first season enjoyable and only took away "let's be as random as possible," and unlike Guilty Crown, it's nowhere near as adorable when they're clearly-aware that they're being random for random's sake instead of gassing the writer's room with strange chemicals.
Preview:
Arsene to the rescue.
Posted in Milky Holmes | Comments Off on Fat Opera Milky Holmes #22 — And Goodbye Moriarty