February 16th, 2010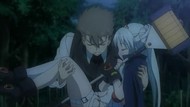 Well, that's a new standard for conversation stoppers.
Impressions:
Another mediocre episode at best (aren't they all?). A lot of that could be that I really can't stand Pina's accent noja! Give it a rest, you freak. Or at least enunciate your damn words correctly. It was also an extremely formulaic episode, even by this show's standards. Scarface encounters some new girl, Tomomi convinces him that he needs to cozy up to her, random fanservice follows. The whole Drillhead backing out and then coming back in all of two minutes later after Scarbrain said please really loud certainly didn't helpthe whole bit not feel moronically stretched out either. At least she's still pretty cute in her transparent crush on him.
Speaking of appearances, those summer uniforms are ugly. Tomomi's also apparently decided to start using a massively padded bra, or the artists forgot her bust size… again. I really wouldn't be surprised in either case. I'm amazed that they managed to go a full episode with all the girls in white shirts and never have it devolve into a wet t-shirt contest. That's okay, they're going to the beach next week. Another generic episode ahoy!
Preview:
Putting $20 on at least one of them showing up in pasties.
Posted in Ladies vs Butlers | 10 Comments »